Lummi-Local learning...
REC Retreats offers special (and in some cases, seasonal) classes and recreational activities that take advantage of Lummi Island's natural resources, allowing you to celebrate her riches, and providing you with an opportunity to explore Lummi Island in-depth. Take home memories and a Lummi treasure, too.
Enhance your visit to the Island and schedule an activity for yourself, or share some special time with your family and friends and register together for a unique experience. Explore hidden spots on the island, create Lummi Island keepsakes, cultivate a new hobby, play with the kids... No matter which class you choose, you will go home with fresh experiences and new skills!
It is best to make arrangements a day or two in advance. In some cases, same-day scheduling may be possible. All classes are dependent upon instructor and venue availability (some are weather dependent), which is why we ask you to arrange the class time before registering. Email Kjerstin anytime!
Uniquely LUMMI
The people and the places here are what make the island extraordinarily special. Work with some of the artists, and visit the farms & gardens which are not always open to the public. A few of these activities can only be offered while resources are "in season" - be sure to call ahead! Exercise your imagination with creative projects or build your skills with an unfamiliar craft.
There are a few activities which take advantage to the "great outdoors", (and here on Lummi, "great" is an understatement!) Relax around a campfire under the huge starry sky, rent a bike or participate in a scavenger hunt that takes you to the little known spots on the island.
Three Pheasant Farm on Tuttle Lane has a spectacular lavender field, and when the lavender is in season, it presents an amazing sensory experience. The "photo op" is worth the trip alone: the huge lavender field is in the foreground, with Orcas Island and the Strait of Juan de Fuca in the background. Pick your own lavender bundles, bring them to REC Retreats and create a wreath with your harvest.
2 hours
$105/person + $40/each additional person
Have you ever been curious about canning? Making fruit or berry jam is the perfect place to start. Come to REC Retreats and participate in a hands-on "jam session". If the season is right, we will share blackberry-picking tips, then you can go pick your own island blackberries to make jam at home! (Additional canning supplies available for sale during the class.)
Each participant will take home a fresh jar of jam.
75 minutes
$70/person + $30/each additional person
Just bring yourselves - the campfire will be crackling when you arrive. Settle into the REC Retreats Adirondack chairs for an old-fashioned fun evening. S'mores ingredients are provided (feel free to bring your own hot dogs and use our roasting sticks.) Play yard games or sing around the fire. You can borrow a guitar (if you play) or a wireless speaker for karaoke (if you don't.)
Request a complimentary "kid kit" - it includes glow sticks, sidewalk chalk & campfire stories (both scary and safe - there are stories for all ages!)
7 - 10 pm (enforced quiet hours from 9-10 pm)
$80/couple
$120/group up to 8
This easy to learn, meditative art form begins with a rock you find on Sunset Beach and ends with a piece of art (and a piece of Lummi Island) that you can treasure for years or give to someone special.
Enjoy views of Mt. Baker and Canadian Cascade Mountain Range, relax with lemonade or ice tea, listen to the birds, paint and zen out.
Debbie Pawlak from Creekside Art Studio will provide you with the tools, techniques and tips to create your own beautiful keepsake from Lummi Island.
This can be addictive, so paint and tools will be available for sale after the class.
75 - 90 minutes
$60/person + $25/each additional person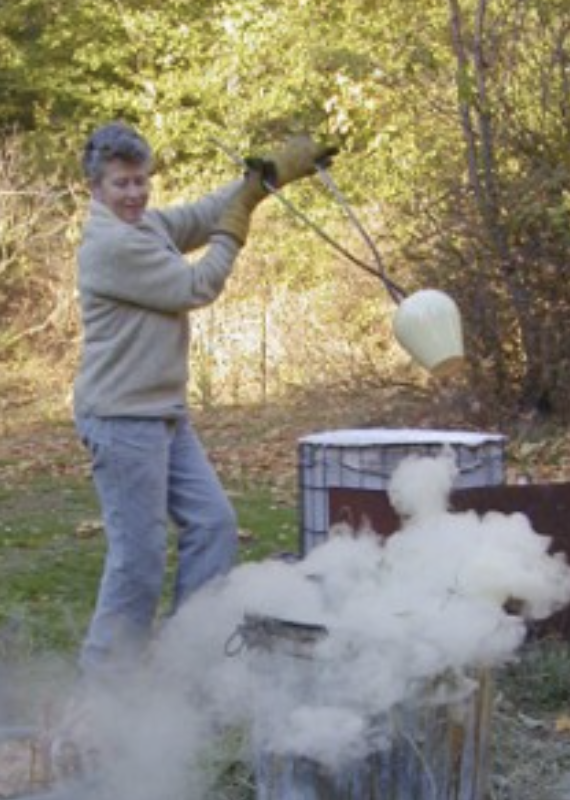 Raku is a firing technique that originated in 16th Century Japan. The pottery is taken hot from the kiln after a brief firing, then smoked, which creates crackled glazes and metallic effects.
Experience a raku firing at Lynn Dee Studios here on the island! You will learn a few simple glazing techniques and apply the glazes to your bisque fired teacups (provided). Once the glazing is completed, Lynn will place the pieces in the special outdoor raku kiln and the firing can begin. After the firing and smoking are completed, you will be able to take your one-of-a-kind teacup home with you. No previous clay experience necessary.
Lynn Dee, noted Washington potter, will be presenting this workshop at her studio. Click here to learn more about Lynn Dee.
2 hours
$140/session 1-4 people + $30/each additional person
beach treasure art journal
A beachcomber's dream come true! Pick up pebbles, driftwood, dried kelp, and shells and bring them to REC Retreats. Here you will construct a small blank book, affixing your treasures to the binding to create a one-of-a-kind journal - perfect for a trip diary, or to display photos of your adventure to Lummi Island. The product is a beautiful, professional-looking book that makes a great gift.
75 - 90 minutes
$65/person + $30/each additional person
This simple, but slightly messy, project produces a wool-wrapped bar of soap that resembles one of the many beautiful Lummi Island beach rocks. The wool serves as an exfoliator and keeps the bar from getting slippery (or slimy). REC Retreats supplies all of the materials for 3 bars of soap. Feel free to explore the island beaches for inspiration!
75 - 90 minutes
$65/person + $30/each additional person
Embark on a scavenger hunt that gives you an opportunity to explore Lummi Island like you might not otherwise. Use your own iPhone or iPad to discover Lummi Island while following maps, taking pictures, solving word puzzles, playing brain games, challenging your spatial awareness, and lots more! Each stop teaches participants about the Island, through little-known facts and local lore. This activity is perfect for ALL ages. Rain or shine. Android devices are not yet compatible with this digital scavenger hunt (hopefully soon!) Available after July 5.
$80/group any size (recommended: 2-6 people)
REC Retreats is pleased to partner with Lummi Island Concierge - they have 24-speed cruisers and Diamond frame bicycles for rent right here on the island. Please contact Lummi Island Concierge directly for rental information. Email for advance reservations: jackie@lummiconcierge.com
Please text for same-day rental: 360.201.9351.
Environmentally friendly Beeswax Food Wraps
Islanders consider themselves stewards of this beautiful island, so conservation and waste reduction are important values on Lummi.
Help protect the sparkling waters of the Salish Sea, and reduce the use of disposable plastics. Using organic beeswax and jojoba oil and colorful natural-fiber fabrics, make your own beeswax food wraps to take the place of plastic wrap.
$65/person + $30/each additional person
HOW TO REGISTER
1) Browse and select from the class selections above.
2) Contact Kjerstin to set up a session that works with your vacation schedule.
3) REC Retreats will email you a link so you can pay online for your class.
4) REC Retreats will confirm your registration information via email.
5) Come play!
Policies:
Some classes may have a maximum number of participants - please clarify if you have a large group (you may also qualify for a group discount!)

There are no refunds, but if necessary, we may have the flexibility to change or postpone your appointment time. (Please note that we will offer a 100% refund if REC Retreats cancels the class, or if we experience unexpected inclement weather - this refund is offered for campfires & raku firing only.)

Your class registration is not considered confirmed until paid in full.

Registered participants only.